VISION FOR A CLEAN WORLD

THE NEW SYSTEM WITH HIGH PERFORMANCE
AND LOW POLLUTION


We all are living in a world that is undergoing constant and continuous change. Global warming is having an ongoing impact in climates throughout the world. Raw materials are now in shorter supply resulting in higher costs for many of the products we use in our every day lives.
Water resources, always before taken for granted, are now being depleted and they too are becoming a precious commodity.
The forces of these changes have created a global wide effort whose mission is to reduce
pollution and develop new technologies to safeguard and protect the environment. From its beginning over thirty years ago, Realstar has always been the industry leader in engineering new products to serve the textile care industry. Utilizing the most modern, cutting edge technologies, our machines have been noted world wide for their emphasis on quality, ecology, low environmental impact, and safety.
Realstar is now proud to introduce the latest addition to our product line, the VISON series.
Designed for use with alternative solvents such as hydrocarbon ands silicone, VISION
machines produce sparkling clean clothes WITHOUT use of WATER or STEAM.

Fabric Care
The properties of the alternative solvents used in the Vision, combined with its newly designed innovative features, enable the cleaner to process any type of garment, regardless of colour.
The operator will find that the clothes will have a soft feel, with no unpleasant odours, and with less wrinkles, making the finishing process easier and quicker.


• Unique dual filtration system allowing the cleaning of darks and lights with NO solvent interchange. Each solvent tank has its own individually dedicated and separate filtration system, solvent piping lines, and solvent pump.
• Non distillation system which lowers operating costs and simplifies maintenance
• Powerful new refrigeration design that enables the Vision to completely dry all fabrics without use of any steam or electrical auxiliary heating.
• NO central boiler or water chiller required to operate the Vision machine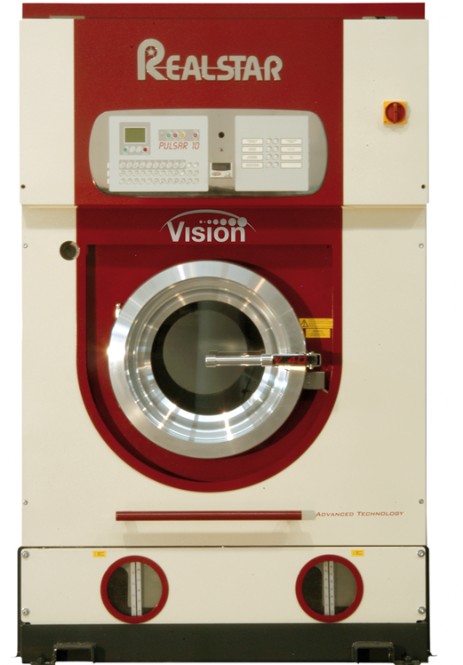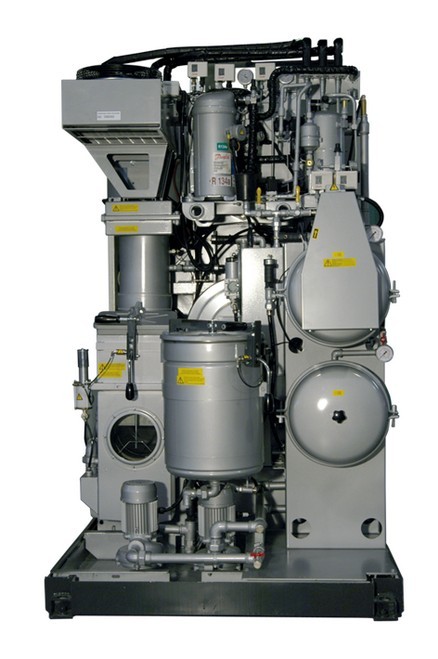 STANDARD FEATURES

• Safety tray
• Two self cleaning solvent tanks
• Completely separate and independent double solvent circuits
• Automatic electro – pneumatic door locks
• Polar refrigerated solvent cooling system
• Secondary double water separator
• Electronic drying control system
• Automatic soap injector
• Inverter electronic drum speed control system
• Air cooled refrigeration system
• Nitrogen safety system
• Large loading door
• Pulsar microprocessor control system
• Large double air filter