Series KM- 03
Hydrocarbon machines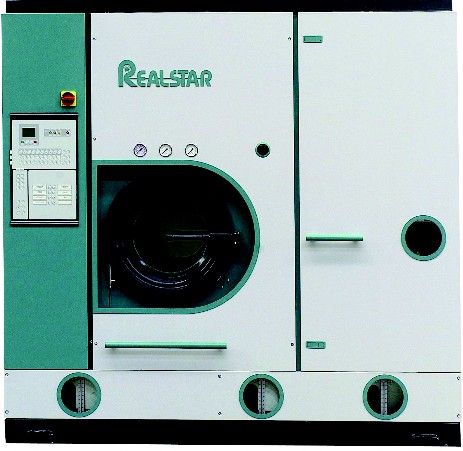 Realstar KM 03 Series Machines are offered in five models:
KM 343 – 18 Kg. Capacity
KM 403 – 20 Kg. Capacity
KM 503 – 25 Kg. Capacity
KM 703 – 32 Kg. Capacity
KM 803 – 40 Kg. Capacity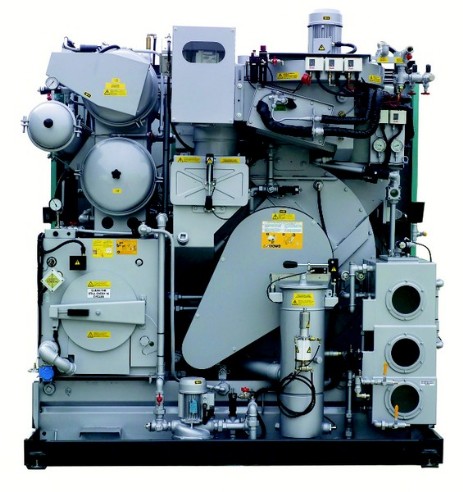 Faster drying for Shorter cycle times
It's quite simple: shorten the drying time, shorten the cycle time, increase production and increase profits.
Realstar engineers have developed a new drying system that will shorten drying times without a loss of efficiency through: Doubling the air flow through cylinder.
Relocating the fan midway in the coils and coordinating the refrigeration and heating coils during the drying phase to circulate larger air volume into the cylinder.
A new Automatic Electronic Dry Control system for maximum efficiency.
For ease of maintenance, our new refrigeration system is now divided into three segments: The compressor, the refrigeration coil, and the heat exchange coil.
All three of these components can be individually and simply serviced, without removal of the entire system due to AEROQUIP unions. Simplified maintenance and less downtime!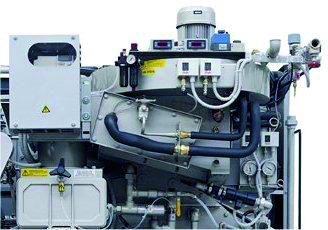 | | | | | | |
| --- | --- | --- | --- | --- | --- |
| Model | KM 343 | KM 403 | KM 503 | KM 703 | KM 803 |
| Load capacity ratio 1:20 lt | 18 | 20 | 25 | 32 | 40 |
| Volume of the drum lt | 340 | 400 | 500 | 645 | 800 |
| Diameter mm | 900 | 1000 | 1000 | 1200 | 1200 |
| Depth mm | 535 | 510 | 640 | 570 | 710 |
| Wash speed rpm | 12 - 50 | 12 - 50 | 12 - 50 | 12 - 50 | 12 - 50 |
| Extract speed rpm | 300 - 540 | 300 - 540 | 300 - 540 | 300 - 450 | 300 - 450 |
| Door opening mm | 500 | 500 | 500 | 500 | 500 |
| Useful volume 1st tank lt | 110 | 160 | 160 | 240 | 240 |
| Useful volume 2nd tank lt | 110 | 160 | 160 | 240 | 240 |
| Useful volume 3rd tank lt | 200 | 200 | 200 | 330 | 330 |
| Useful still capacity lt | 190 | 260 | 260 | 360 | 360 |
| Total volume lt | 230 | 325 | 325 | 455 | 455 |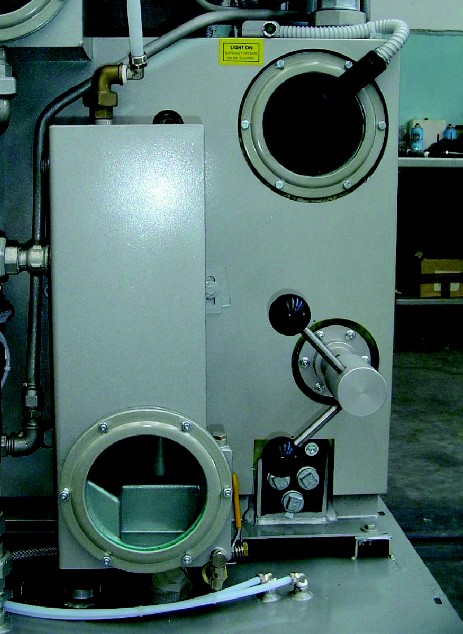 Fractional Distillation
One of the most important phases in the proper operation of an alternative solvent machine is that of distillation.
An improperly designed distillation system will lead to odor causing bacteria in the solvent tanks which will transfer onto the customer's clothes. To prevent this from occurring, Realstar engineers have de-signed a system referred to as fractional distillation which is found in all of our KT and KM Series machines. Unlike the atmospheric stills used in perc machines, alternative solvent machines distill under vacuum to achieve the higher boiling points of these solvents. Our fractional distillation system regulates the proper amounts of solvent to the still and tanks to prevent harmful bacteria causing foam and resulting odors